A Celebration to 50 Women Over 50
Too many women over 50 feel invisible. Yet, we are too experienced to not be heard and too beautiful not to be celebrated.
I want to change that.
I am looking for 50 women to join me in a one-of-a-kind experience celebrating your life and your story.
It's time to start a conversation about the beauty of aging and to embrace the confidence of finally being comfortable in our own skin. Together we can change the way the world defines aging and we can lift and empower those that are coming up behind us.
Through the 50 Over 50 Project We Can: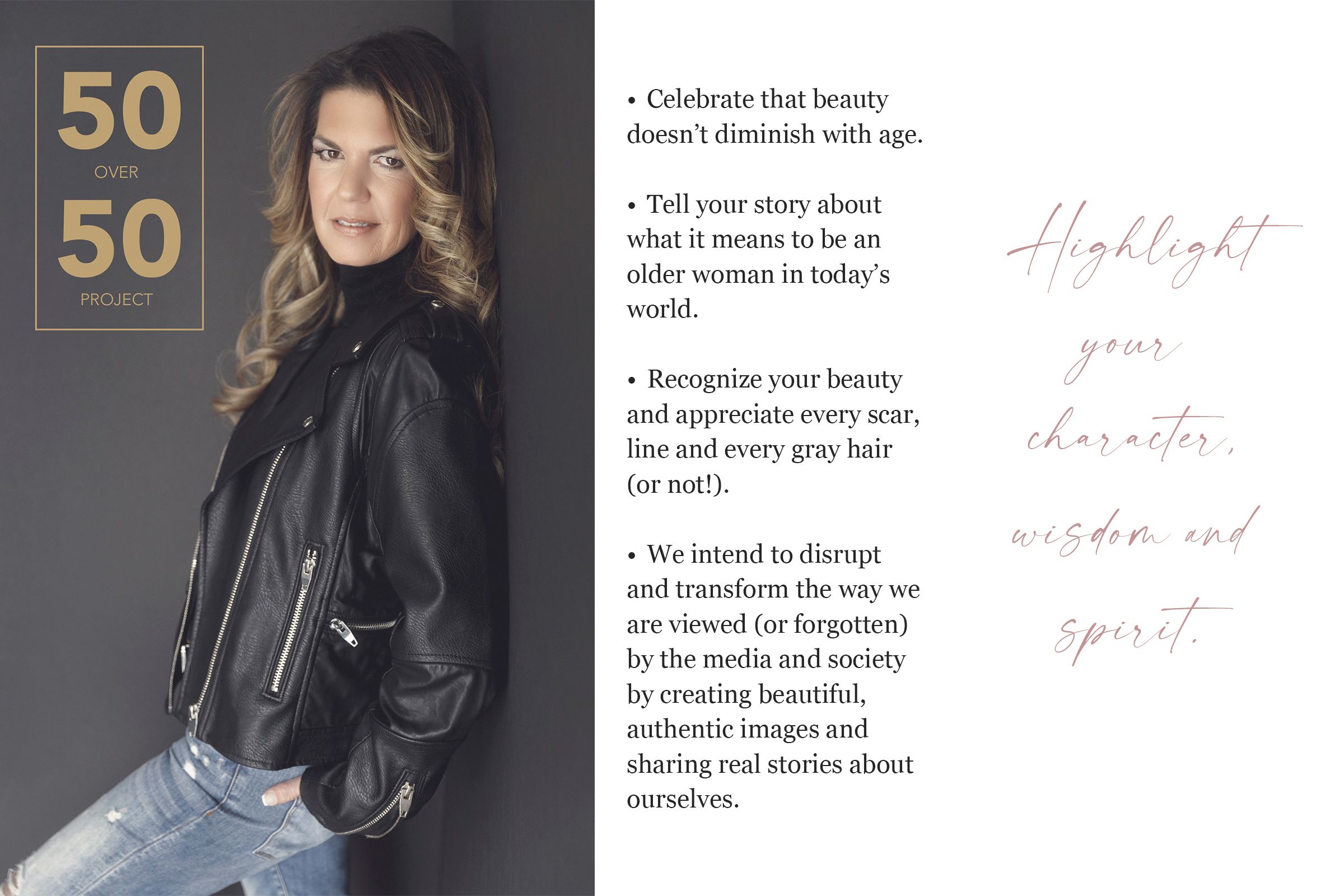 1. Consultation
Complete custom photo session designed for you, including wardrobe and styling consultation.
2. Professional Makeover
Camera-ready custom make-up application by our professional on site make-up artist. Whether glamorous or natural and refined, it's all up to you! Professional hairstyling included for picture perfect results!
3. Magazine-Style Photoshoot
Covergirl for a day! You will enjoy a fully, expertly guided photoshoot. Not feeling photogenic? Nonsense! It is not your job to be. I've got you! It is my job to connect and make you comfortable, to show you in your best light with flattering posing. Get ready to rock this!
4. The Reveal
We will schedule a time for you to come back and view your beautiful portraits in person or via a zoom meeting online, about 2 weeks after the session. At that time we will review the best images from your session. You can choose your complimentary photo and if you desire more, you'll receive $100 toward an image package. But, you only the images you love!
As a bonus to being a part of the 50 Over 50 project, you will receive one complimentary print and digital of a portrait.
If you would like to purchase more images from your shoot we have many beautiful products - including wall art, signature books and custom albums. Or you can even store your new images in a luxury folio box from Italy.
Who can take part in the project?
I would love to photograph a wide variety of women 50 and over. Let's create a tapestry of stunning images of women of different shapes and sizes; women with different tastes, from different backgrounds, and with different views of life.
​It's about so much more than just "taking pretty pictures." My hope is for you to truly reconnect with yourself, see your beauty and spirit the way others already see you.
Women with Financial Hardship Sponsorship
My goal is to show a diversity of women, and I recognize that the cost may be prohibitive to some people. I will be gifting several shoots in the new year to women of financial hardship to participate in this important project. If you are interested or know someone who is, please send an email to Christina
Would you like to sponsor or gift someone a session? Have someone in mind? Send me an email!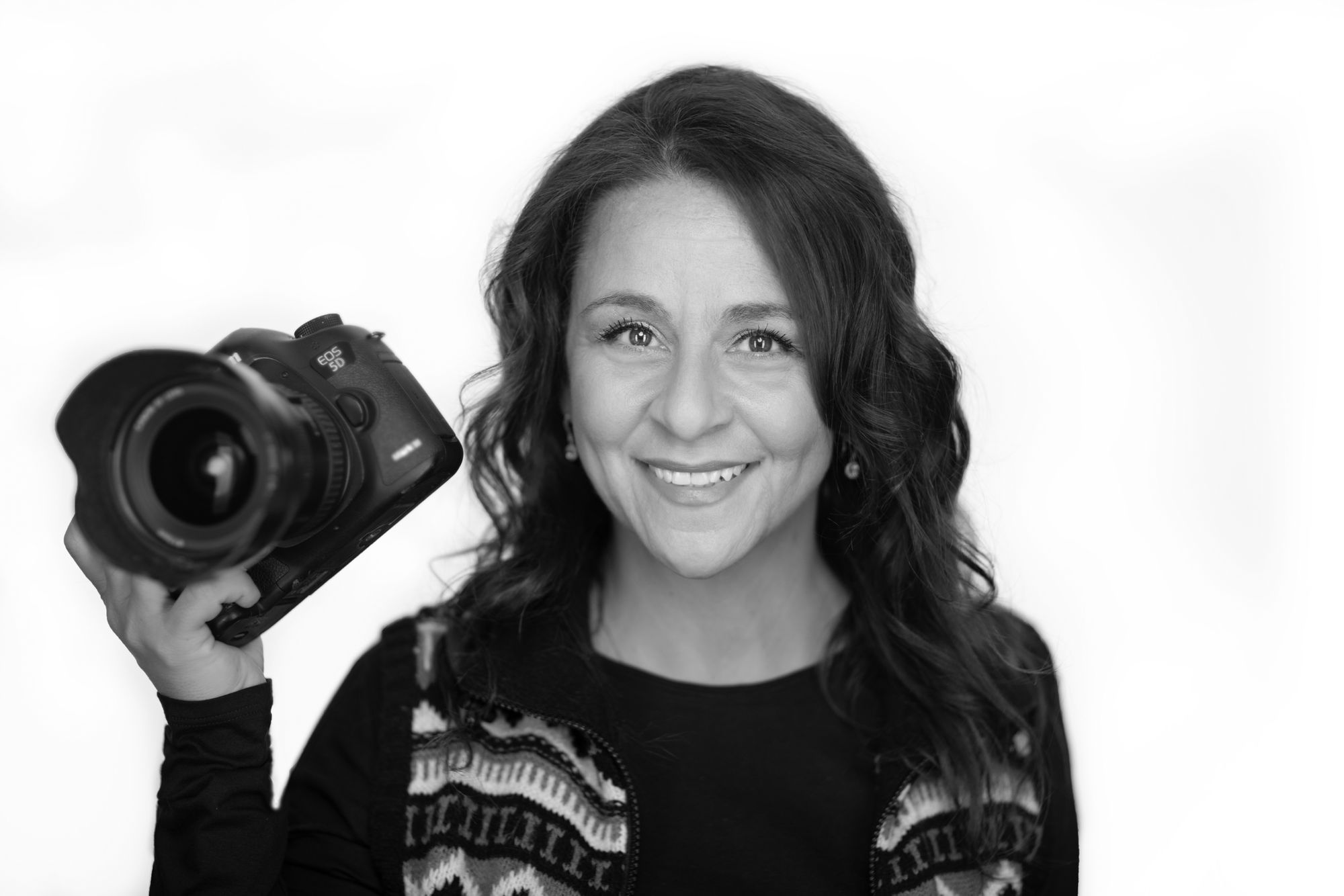 Although I have been a professional photographer and industry educator for over 25 years I only took my portrait photography business full-time after turning 48 and building my dedicated home studio. This year I'm turning 50. I was content on hiding from the world. I even told my husband not to post it on Facebook or have a party for me. I felt like someone in my profession needs to appear young and physically strong and that age was something that would work against me.
Over the past year+ I kept getting clients with Moms bringing their children in for photos. They would sit by watching contently as their beautiful and talented children are photographed. I always asked Mom if she would like to be photographed as well. And time after time I would here "No - not me, just the kids". I did the same for years so I related well.
Now I get women of all ages in my studio to experience a portrait session with me and I can see THEY WANT TO BE PHOTOGRAPHED and they should be. Women of my age and older are very under represented in the media so I wanted to create something about women in the second half of their lives. I know how empowering it can be to see yourself in photographs and I wanted to give this very special gift to all women to enjoy. I finally realized that my age can be my SUPERPOWER!
No longer am I shy and awkward in my life and behind the camera. My years of experience has taught me to be comfortable with myself, my abilities/skills and it helps women in front of my camera get comfortable with me.
It will be fun, fulfilling, and transformational. The REVOLUTION is within you...and I want to bring it out! Join me on a fun and incredible adventure bringing out your superpower!