Conceptual Portraits, Fine Art Dance & Model Portfolios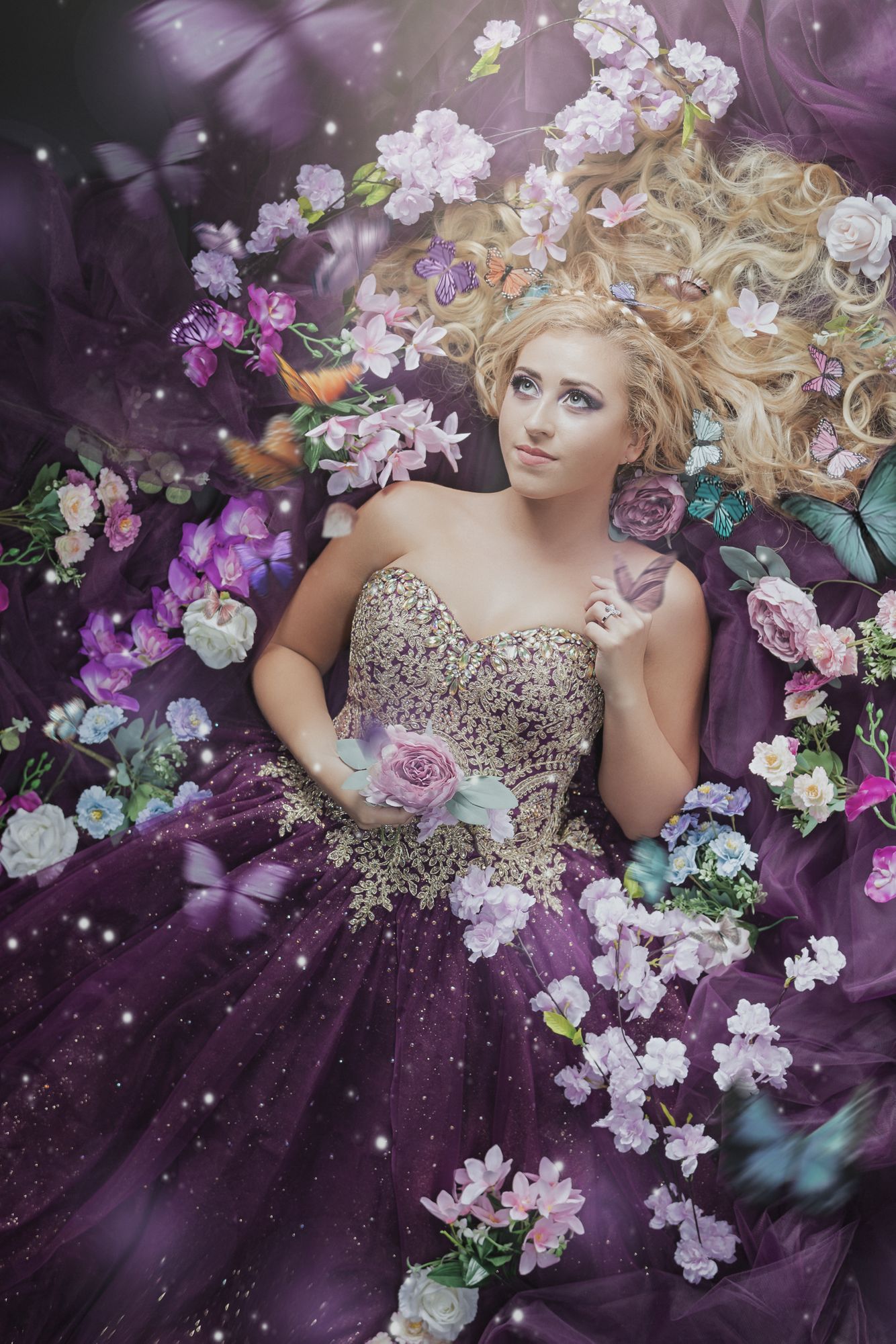 What is conceptual portraiture?
Conceptual portraiture is when a client has a vision or idea and would like me to use my creative vision to create a unique, one of a kind image or set of images for them. These images are created with color, light, props, make up, styling, and sometimes compositing different images to create one final fine art image. The sky is not even the limit here. If you can think it, we will brainstorm the process and we will create it. It takes a fair amount of preparation but it's worth it in the end to have a work of art for you to truly love. FYI: None of the people in these images are professional models. They are people from all walks of life that want to get creative.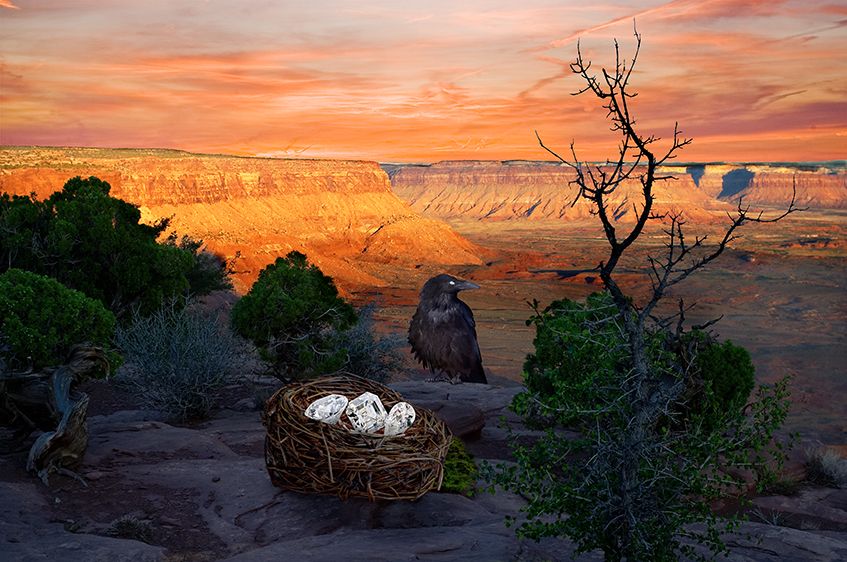 Why Conceptual Portraiture?
This is a style of photography I have always been drawn to. Some people don't now this but I was primarily a product (Cosmetics, fragrance, jewelry, off figure fashion etc. ) photographer for the first 20 years of my career. My job was to photograph products in unique ways. In addition to lighting and getting a good exposure it was my job to also design these sets around a theme specified by an art director. I would find ways to hang items, use all kinds of hidden set materials and props to evoke a mood with set designs. Lots of time props were too expensive or not available so I learned how to use Photoshop as both and editing tool and a creative tool to create the images I could see in my head. Now that I am specializing in portraiture the decades of styling my own sets for others has given me wings to explore my own creative whims. If you look at my exterior I'm quite tom boyish but inside I dream of a world where everything is beautiful and ethereal, playful and edgy, creative and full of nature and always dreamy. It is my absolute favorite kind of photography to listen to a client's vision or inspiration and bring it to life with my unique skill set.
How does a Conceptual Portrait session work?
There is an exploratory phase to see if your comfortable with the way I plan to create your concept. You have a vision or inspiration and together we create it! Clients usually have a theme they are interested in and it's a great idea to show me digital screenshots of any images that inspired your interest. It can be anything! Low key Hollywood lighting, a character from a fairytale, Vampire diaries inspired, Euphoria inspired, 70's, Birthday party scene, a renaissance painting, a flower theme, Superhero inspired, Jungle, rainforest, Goddess, Snow Queen, Princess etc. This is a perfect experience for dancers of any genre to bring out their creativity. Honestly the sky's the limit. We sit and have a creative session where we work out a concept and the purpose for the final image(s). Will it be wall art, an advertisement, a series for a book, etc. . Sometimes part of the image needs to be photographed outdoors and another part indoors. We will discuss all of this and more. Then we discuss wardrobe, propping, background, elements that have meaning and need to be included, hair, make-up, nails, what kinds of poses will work for this concept and every detail we can think of to manifest what the final image would look like in an ideal world even if it's unrealistic…. I mean of course it is! This is a created world.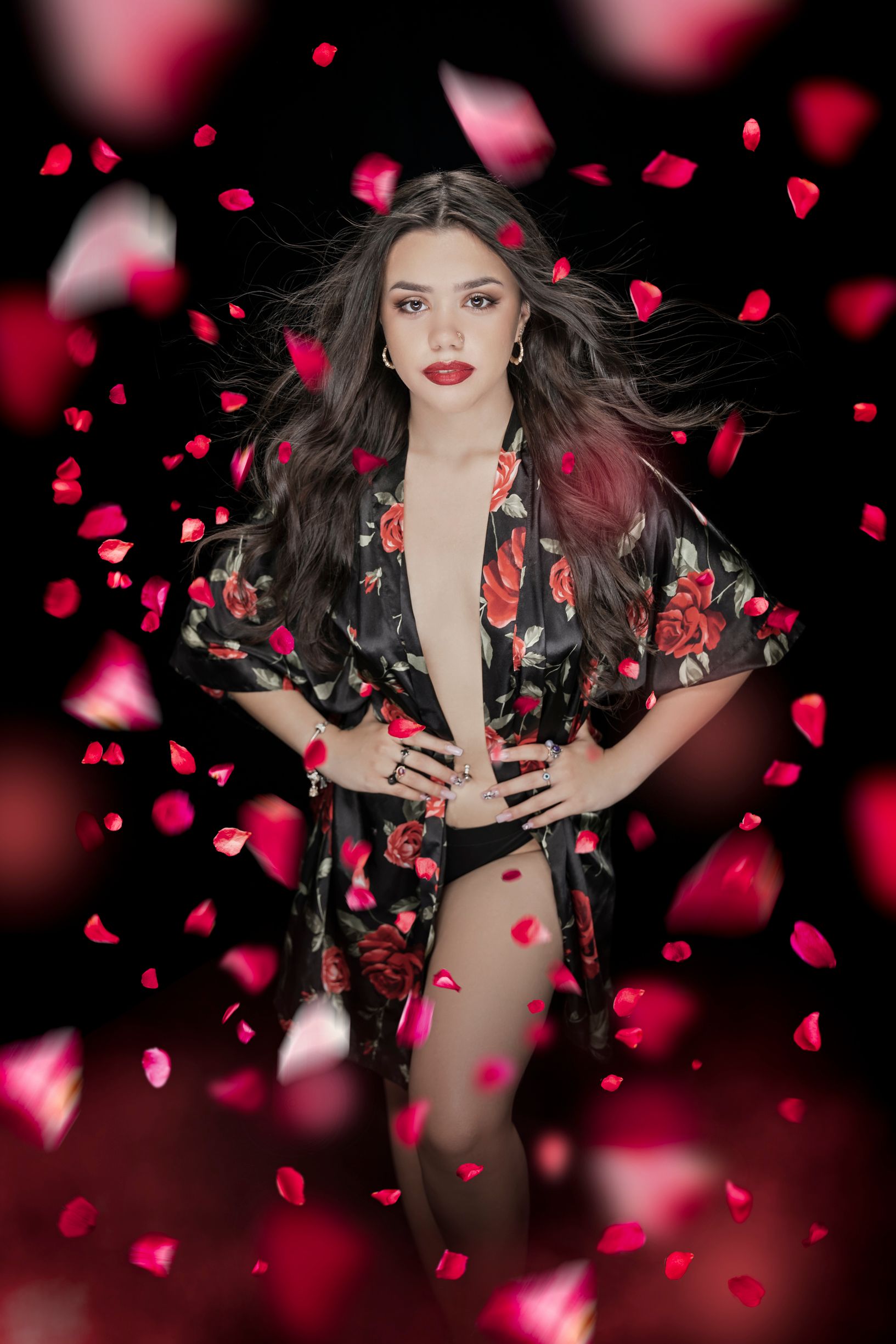 Behind the scenes
We will create mood boards from this inspiration and share them with you, the make up professional, the hair stylist, my photo assistant and anyone working on the set for your portrait experience. This is a fantastic way to get the entire team on the same page for your shoot day. I have lots of props and abilities to design on a dime but any additional props we need to purchase for the session will be the client's responsibility. There will be no surprises. We will be lock step the entire process.
The day of the shoot
Because of all the attention to details in preparation, the actual creative portrait session will be tons of fun!!! You arrive at the studio with your wardrobe, a clean face and clean dry hair (preferably washed the night before your session) and we take it from there. I will create as much of your set as I can before you arrive and when you are in character it's time to get magical! If we are in the studio I will be shooting tethered to a computer so you can see the images on the screen and also on our 60" display right from the set in real time. This is a great way to make micro adjustments as we strive to make the image perfect or at least as close to the vision as possible. Sometimes it will be a single image but many times the final image will be a composite of several images and I will walk you through that process so you know we got all the shots we need to create your final image. In this image block is a sample of a typical mood board that will be hanging in the studio for us to use as reference during the shoot. these help the team understand the mood and the intent for the images. We don't copy, we create based on the inspiration.
Gianna's Creative session
Here are just a few from Gianna's creative session. She had a few ideas when was floating around and we decided to play with a few of them during her experience. There are some additional beautiful images that are for her eyes only. We always get permission to post. Most people look forward to our posts on Instagram and our website but we will not post certain images or your entire session if that is requested. No questions asked.
What happens Next?
Three weeks after your session I will set up an in person viewing or a zoom session so you can have a look at your final image(s). You will have one opportunity to ask for any changes or edits. If you love the image as it is presented it will go to print and we will reach out to you as soon as your wall art arrives. If there is additional edits then we follow up with additional viewing for final approval.
If there are additional edits that are outside the scope of our original conversations it will cost $100 per additional edit and will take 1 week for a final approval before going to print. This doesn't happen often but it's always an option. You must love your image before it goes to print.
These images are a form of self-expression for any person young or old, large or small, serious or funny, dreamy or dark. If you can see it in your head I can help you bring it to life. I'm inspired by this work and I absolutely love these collaborative creations.
Investment
All packages include a creative planning session, professional hair and make up services - ($100 if not needed), the portrait session, a zoom or in person session to choose the final image(s), professional editing, compositing and retouching. and a viewing and ordering session.
All final images will be professionally printed and mounted size 16x24, 16x20 or 16 x16 based on the aspect ratio of the image . Each final image is delivered with a same size digital file and a print release.
1 image $995
3 images $1895
5 images $2500
8x8 Signature book of up to 30 images (10 Spreads) including the final image $799 this option must be requested before the session date. Low resolution digital files for social media are included with any Signature book purchase. (Additional spreads over 10 are $100 per spread).
$100 session deposit
$ Remainder due on the session date.
Additional purchases at the in person viewing receive substantial discounts up to 40%. (correlates with
$975 All unretouched culled images from your session. (Globally adjusted for exposure, color and contrast). Sized 10 inches on the long side.
The Dancer Experience: Dancers can choose the session above or they can choose to pay a $400 creative session fee and choose their images and products at an in person viewing session (or a virtual viewing) 3 weeks after the session date.
CUSTOM CREATED FINE ART DANCE ALBUM

Your modeling portfolio photography is the most important thing that you will do as a model. Hopefully you make it to the cover of a major magazine some day or walk that dreamy runway, let's get started creating an amazing modeling portfolio to get your career off the ground.
Must Have Portfolio Images
Headshot: The very first image in your portfolio should be your best headshot that accentuates your facial features. You want to make sure that you can clearly see your face and avoid heavy or dramatic makeup and lighting.

Full Body: Follow up your headshot with your best full body shot that shows off your proportions and body type. Again, you want the clothing to be simple and not distracting from you as the model.

Smiling: You want to include at least one image in your book of you doing a full smile, especially if your market is on the more commercial side. Clients want to see your smile, and more specifically, your teeth.

Multiple Angles: You want to have images that show multiple angles of your face and body, so the clients can get a good idea of what you look like from all sides.

Different Looks: Avoid having too many images of you in the same outfit. 2-3 photos in the same outfit is the most you would want to use.
Often during castings, the client will only flip through the first few pages of your book, so you want to make sure you have strong images at the very beginning to catch their eye. The photos in the middle can be a bit more creative to show the clients your ability to move and express yourself in front of the camera. This is also where you can add some tear sheets if you have them.
Always end your portfolio with another one of your strongest photos. Another great beauty or headshot that is a little different from your opening shot works perfectly here. Never include runway photos or things like selfies in your portfolio. Runway shots aren't needed by clients and selfies make you look extremely unprofessional.
Remember, your modeling portfolio is the most important piece of marketing material, and it will have a direct influence on how much work you get. Just like you as a model, it will evolve and improve with your experience, and always quality over quantity!
Lots of Q & A about getting into modeling and creating a professional portfolio:
1. What is the most important thing I should consider before I start my portfolio? Your first consideration is to be realistic about the kind of modeling are going to do. If you are petite, you will not be a fashion model, so don't shoot pictures that make you look like one.
Unfortunately, you don't get to pick the jobs you will do. The industry picks you and the clients will decide if you are right for any given type of modeling. Be sure to do your research and be honest with yourself about where you fit. Being realistic from the very beginning will insure that you don't waste time and money and will hopefully limit the chances for rejection.
2. Do I need to work with more than one photographer? In a perfect scenario – YES! But in reality – NO! Modeling agencies tend to encourage new models to work with multiple photographers to build their portfolios so that the book contains a variety of looks and also so that the model gains the experience of working with different photographers' personalities and working styles.
Of course this can become extremely expensive for someone who is just starting out. As long as you choose a photographer that understands the need for variety and different looks, you can build a very effective portfolio working with just one person. The benefit of working with just one person, if they are talented enough, they will get to know you, your styles and your capabilities and make an effort to keep your book fresh.
Be sure that your portfolio contains a selection of pictures that show you at your best, show your range of emotions and your ability to portray different characters.
3. How do I pick the right photographer?Start your search at Google and look for "commercial advertising photographers" in your area or the closest major city. These are the photographers who shoot pictures for advertisements -the same advertisements that you want to be in. They understand how to create photos of you that look like they should be in ads.
4. Should I use a modeling agency's photographer? NEVER! If a modeling agency is asking you to shoot your portfolio with their photographer, they are probably just interested in your money. If you do some research, you will probably find out that their "photographer" is not a full-time professional and is probably being paid an hourly fee to take your photos. In other words, the pictures suck and the modeling agency will make a ton of money from your photo shoot. This is a very legal, but morally inappropriate modeling scam that some agencies take part in.
The only time you should consider an agency's photographer is if you have asked the modeling agency for recommendations and they give you the names and contact information of a few good photographers in your area. As long as they have not told you to use a specific one and they are not asking you to pay them to set up the photo shoot, it is probably an honest list of recommended photographers.
Do NOT contact a modeling agency before you have your portfolio, otherwise you simply risk making a bad first impression and showing yourself as a potential sucker to the agencies that are willing to take advantage of you.
5. Can I have a friend that is good with a good camera take my pictures? This is a bad idea on so many levels. That friend who is good with a camera is not a professional, so why would you risk your career to someone who really doesn't know what they are doing? A great portfolio is not just about good quality photographs, it is about the right photographs that show the right things to market you.
Another reason this is a bad idea is that someone who knows you on a personal level or even intimate level will just add to your nerves and make it more difficult for you to perform in front of the camera.
If you are reading this and thinking that it would be easier for you if you could shoot with a friend because you would feel more comfortable… that means you may not be a great candidate to model professionally. When you get hired for a job, you don't get to take your own photographer with you. You are going to have to work with many different personalities and now is a good time to get started.
6. Do I really need a makeup artist?ABSOLUTELY! Shooting without a makeup artist, when you are taking the most important photos of your career is simply called career suicide!
Hopefully you have decided to work with an amazing photographer to shoot your portfolio, so it is equally as important to work with an amazing makeup artist if you want to look your best. At our studio we have top of the line professionals that will start with a basic look and build it up throughout the session.
Understand that you can't do your own makeup as well and with as much range as a makeup artist can do. You should also understand that makeup for the camera is much different than the makeup you wear everyday. Plus, when you are at your photo shoot, you should be concentrating on the modeling – not the makeup and hair.
7. What kind of clothing should I wear?Simple and basic. The photographs are trying to sell your ability to model – NOT the clothing you are wearing. The clothing is a costume that helps to make the various characters convincing.
You should stick with classic solid colors. Prints, patterns, and florals are a horrible idea as they will take attention away from you and can get dated real fast. Make sure the clothing fits properly and is flattering to your body.
Don't take my word for this – pay attention to what you see models wearing in advertisements. The majority of the clothing is solid colors.
Even if you are tall enough to be a fashion model, when you do your fashion shots – keep it simple, remember that the shots are selling you and your ability, not the designer clothing.
8. What kinds of pictures do I need in my modeling portfolio? Your portfolio needs a variety of shots, including headshots and full length photos, as well as three quarter length and full length images. You should have a good balance of shots done in the studio as well as shots done on location in natural lighting. The images you choose to put in your portfolio need to show a range of facial expressions and emotions. This is where it is important to know your market and what your target client audience is. If you're in a commercial area, you want to make sure you have many different photos showing your smile and an all-around happy vibe, not all serious and moody images. You also want to have a variety of different settings- some images done in studio and some out on different locations.
Remember to include shots that show you are the characters that you will be hired to model as. (business, athletic, medical, college, beauty, fashion, etc.). Don't forget different expressions in every photo and LOTS of variations with your hair.
9. Should I include any photos with no makeup?Yes. Before the invention of digital cameras, we used Polaroids. You should have a digital Polaroid of your face and also a full length body shot.
Photographing a bare face does mean it should be a bad portrait! We make sure the lighting is soft and flattering. At our studio we use natural daylight and know how to shape and mold strobes to bring out your features and hide the flaws. We do not retouch these photos. We make sure the backgrounds are simple and not distracting.
10. How many photos do I need in my modeling portfolio? Between 6 to 20 photos is appropriate for a modeling portfolio. NEVER more than 20.
If you are a brand new model just starting out, I would encourage you to work with somewhere between 6 to 10 photographs. Less is better – regardless of the amount of experience you have.
If you have modeled before and you have tear sheets, only include them in your book if they make you look amazing. Don't include them just to brag about work you have done. That's what a resume is for.
11. How large should the photos be?Modeling portfolios range between 8×10, 8.5×11, 9×12 and 11×14 inches depending on the market where you intend to work. In markets like New York and Los Angeles, the 9×12 and 11×14 inch books are most popular. In most other markets like Philadelphia, Boston, Dallas and Chicago, 8.5" x 11" books are the most common. Larger photos are not more impressive and won't get you more work. Larger photos just make your flaws bigger. You do not want to stand out for the size of your book. You want to stand out for what is in the book.
12. Where can I get a modeling portfolio book? You can purchase a Scuba book on Amazon. We offer that as part of some of our all inclusive packages. This style is better for swapping pictures. We also offer a beautiful 11x14 lay flat photo book that is a beautiful keepsake and more like a time capsule. Some clients get both.
13. Should all the photos be in color? No. It is okay if all of your shots are in color. There is no rule here. It is okay if you have one or two black and white photos in your portfolio to help add an additional dimension to your book.
Don't get carried away because you think black and white images look cool, and don't use lots of them because they tend to hide skin flaws. The overwhelming majority of advertising is in color, so your portfolio should be as well.
14. Do I need to pose in swimsuits or lingerie? What about Nude? No, No and NO! There is no type of modeling that you HAVE to do to be a model. You are not required to model anything that is in conflict with your cultural or religious beliefs. It is not like the reality TV shows where they make all the models get naked. It is simply a matter of the more things that you are comfortable doing, the more opportunities that you may have. No legitimate modeling agency will ever demand that you work in these categories.
That being said, if you are avoiding these categories because you don't think you are in the best of shape. . . you are just kidding yourself. All the clothing in the world won't change your measurements and the reality that you need to get in shape. Models are healthy, attractive people who take care of their bodies and look their best at all times.
15. Do I need any special skills, like dancing or gymnastics? Special skills are not a requirement, but if you have them, be sure to show them in your portfolio.
If I shoot a model who is a trained ballerina and can stand on pointe – I will definitely do a ballet photo of her standing on pointe. This is a way of showing that she has a skill that other people don't usually have and it can make the difference in her being hired for a job that requires this skill.
You can tell people that you can do something, but photographs not only prove that you can do it, they show how well you can do it.

Create your own package or choose from one of our all inclusive options. We can also create a custom package on request.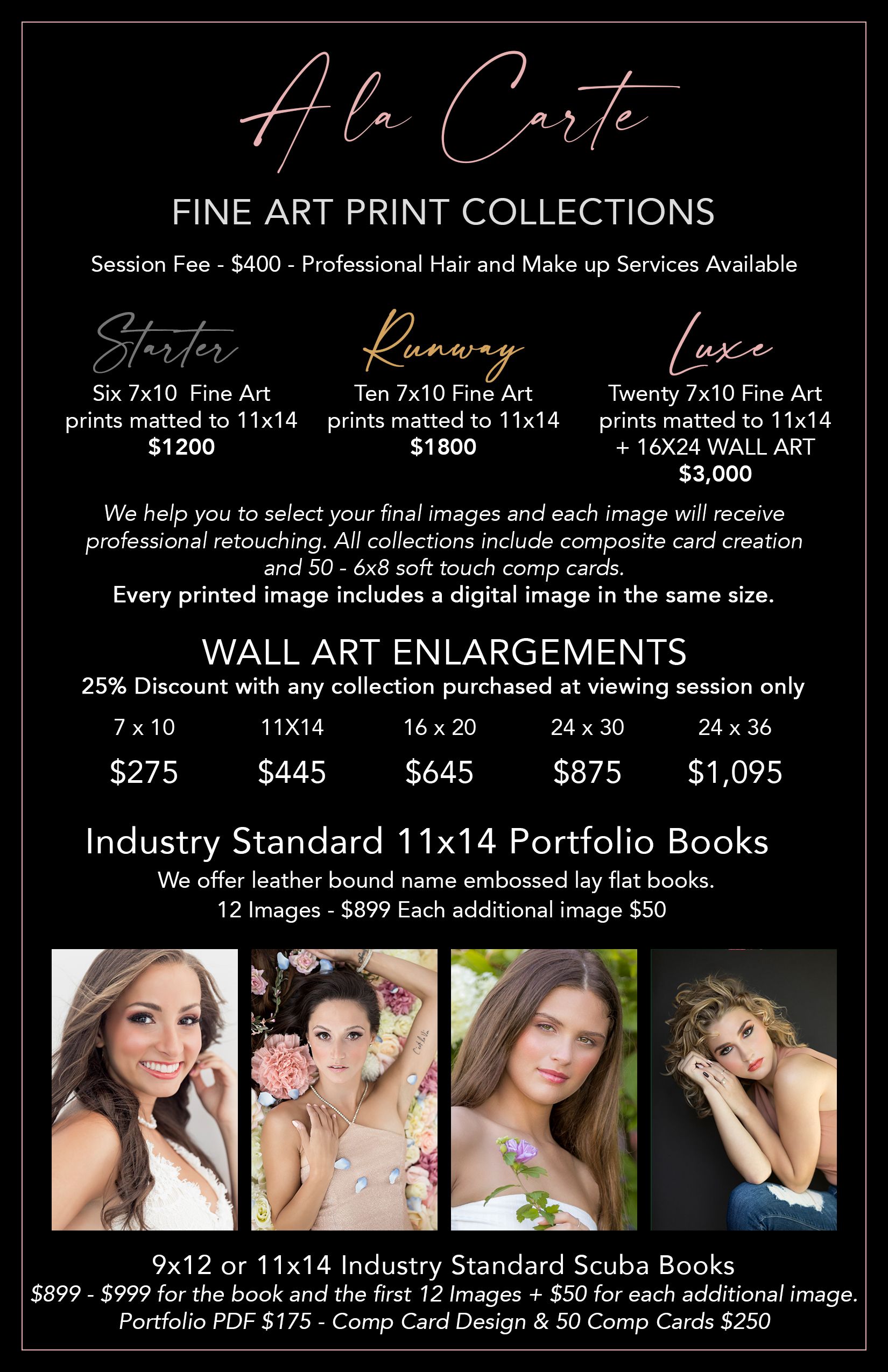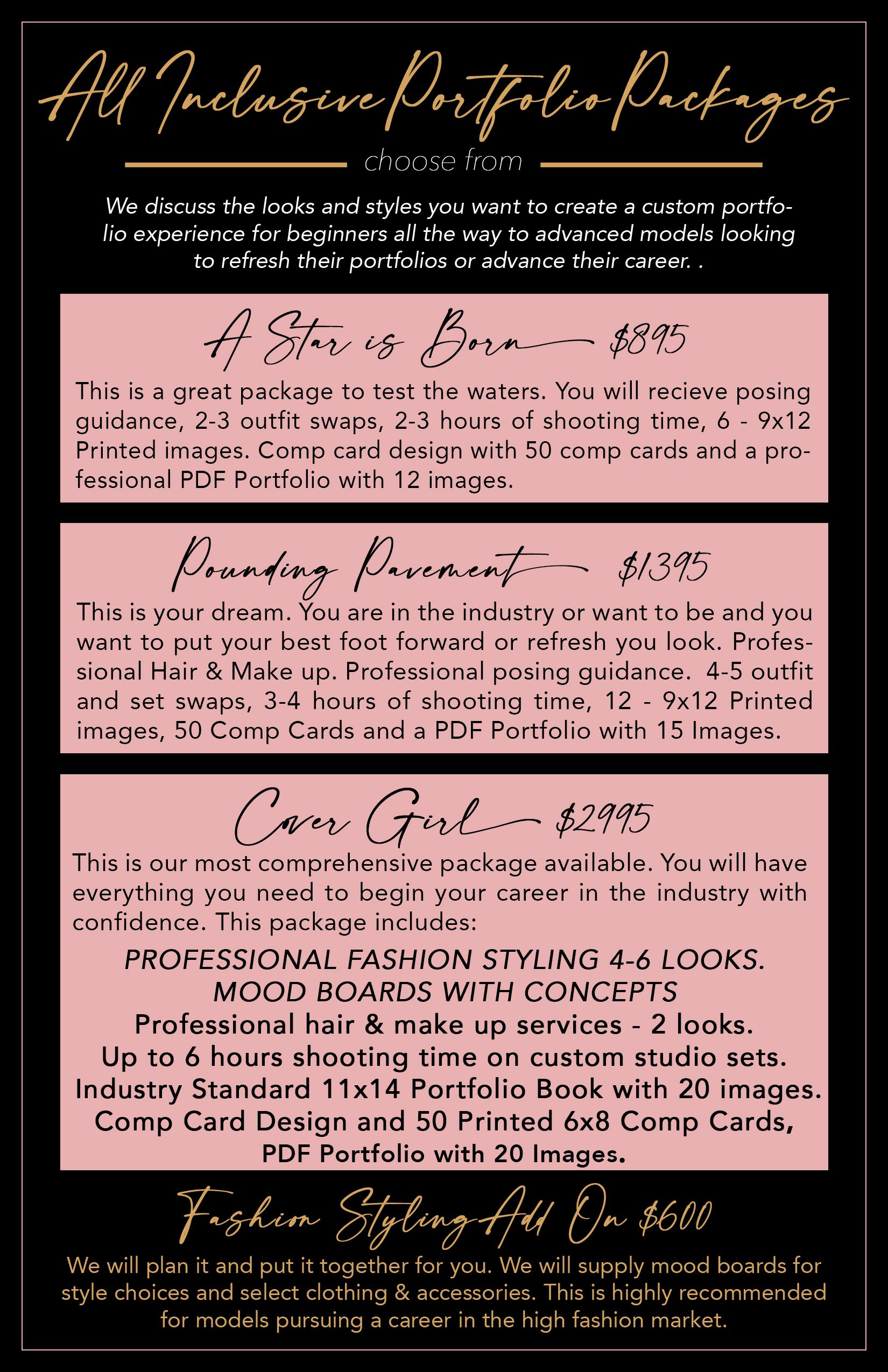 STREAMLINED DIGITAL PDF - 20 Images Includes 20 edited images PDF format in high resolution and low resolution for emailing. Cover Page will include all model measurements followed by 20 edited final images culled from the portfolio session. Images will be delivered in color and black & White and sized for Print and Web. $950