MODEL FOR A DAY
THIS EXPERIENCE WILL CHANGE THE WAY YOU SEE YOURSELF
You are beautiful! Every woman should exist in pictures. So put down the smart phone and let a professional take the most beautiful pictures you've ever seen of yourself. Come get pampered with a modern, magazine style portrait experience.
Family First Folio Session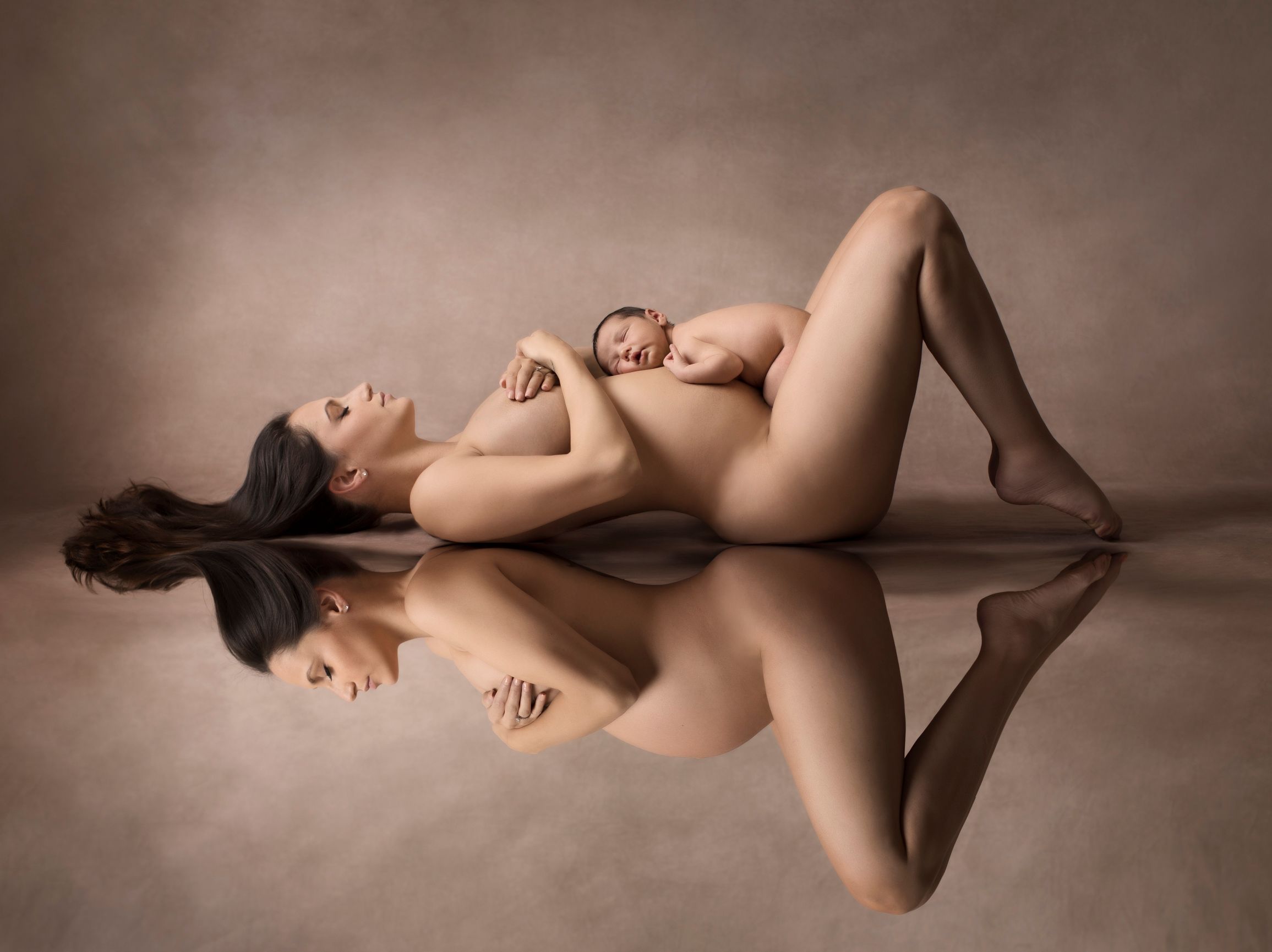 MATERNITY & NEWBORN
5 REASONS TO CHOOSE US FOR YOUR MATERNITY & NEWBORN SESSIONS:
You are only pregnant for a very short time and you will never look this way again. You should have a professional create these keepsake images for your family.
We can bring any vision to life in our 1500 sq. ft. private dedicated home studio and decades of experience with lighting, set building and understanding the vision of our clients.
Mom, you are glowing but you are carrying around a lot of extra weight. You arrive at our studio with clean, dry hair and a clean face. We'll take it from here. Let us pamper you with a professional makeover to get you ready and feeling best for your portrait experience.
We spend 2 hours photographing just mom and then we invite dad to join in the session to create one-of-a-kind legacy images of your growing family.
We handle everything from helping you choose your outfits, to the photography and choosing beautiful books, albums, and wall art for your home.
The Elegant Portrait Session
Beauty  Prep BEFORE YOUR PHOTO SESSION
SKIN
Please come to the studio the morning of your session with your skin completely clean and free of all cosmetics & moisturizers .Exfoliate your skin the morning of your shoot with granulated sugar and freshly squeezed lemon
Do NOT tan or get a spray tan!
PLEASE avoid the sun for at least3 weeks prior to your shoot.
Please make sure you have your eyebrows groomed and any facial hair a few days before
your shoot.
HAIR
You should arrive to the studio with your hair clean and completely dry.
Do not straighten your hair or put any product in your hair unless otherwise discussed during your consultation.
If you are considering making any changes to your hair, it's best to email us and make sure that whatever changes you are making will still match how your session is designed.
Please make sure that your roots have been touched up prior to your shoot.
NAILS
Hands play a very important role in your portraits. Nails should be neatly trimmed with no polish or a nude/blush tone.
A simple manicure and pedicure will be perfect. Make sure that your fingers and toes match.
No acrylic tips and/pr designs on your nails including french tips. Don't paint them a bright or bold color as normally these bold colors are very distracting in photographs. We want the viewer to focus on you and not your nail color.
Studio Session Preparation
The Consultation

During your pre-session meet & greet you will have the opportunity to tour the studio and get a better understanding of what your session will be like. In the event you can't come to the studio we will have an phone consultation where we will go through a number of images to gather ideas on how you envision yourself being photographed. Digging deeper, we will discover what resonates with you-soft and ethereal, bold and confident, or something sexy! Pre-session consultations are required to book any session in our studio. We ask that you do not bring guests or children to your consultation so that we can stay focused on YOU. Consultations last about 30 minutes to 1 hour, depending on how chatty we get, and are scheduled Tuesday and Thursdays in our studio.

Post Consultation: gathering necessities

After we have gathered initial ideas for your shoot, it's now time to begin mapping and designing the perfect poses and character of your session. We will send you a beauty guide and style guide to help you begin looking for your favorite outfits. Now is the time to consider purchasing your own garments to make your photographs extra special. Consider borrowing gowns from family and friends, shopping in vintage boutiques, or using renttherunway.com to add a personalized touch to your portrait session. To help us design your session, you can fill out our pre-session style questionaire! This will give us an even better idea of how you want to see yourself!

What to Bring

Nude Strapless bra + matching nude panty. (no show panties are preferred) ​ - White bra + matching panty - Black bra + matching panty ​ (these under garments are essential to your shoot, please make sure to bring all three tones) ​ - A pair of your favorite jeans, white tank top, black tank top, and any jackets/coats you love - Spanx (we use these to hide panty lines under certain garments) ​ - A pair of slippers or flip flops to walk around the studio - Any gowns, lingerie, or vintage items you may have to make your session unique. - Hair extensions (real hair only) - optional There is no need to bring shoes or cosmetics other than lip color to your shoot. Please let us know if you have any skin or food allergies prior to your session.