The Signature Portrait Experience

Our true specialty here at Christina Kramer Portrait is making your vision come to life.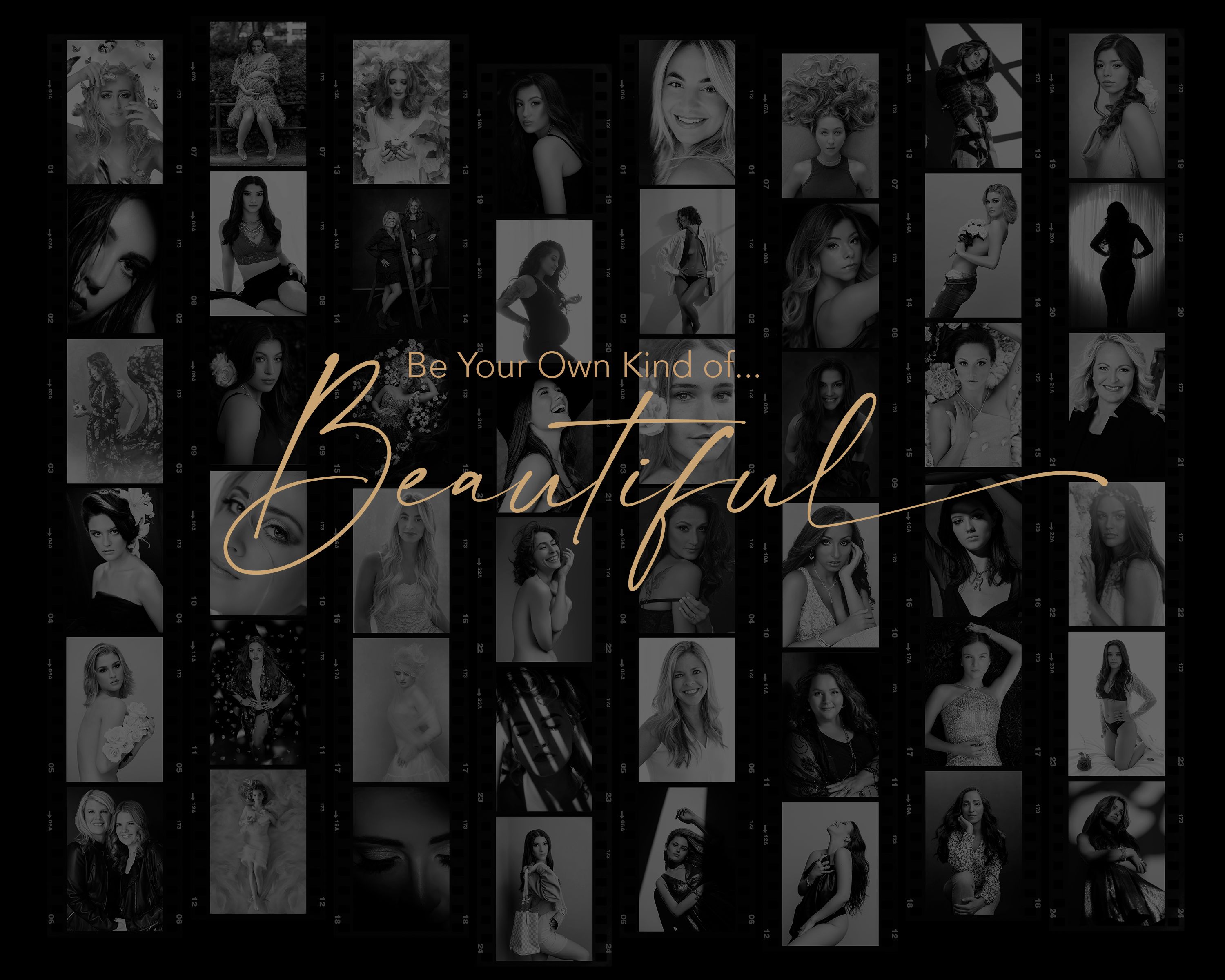 Deanna's Signature Experience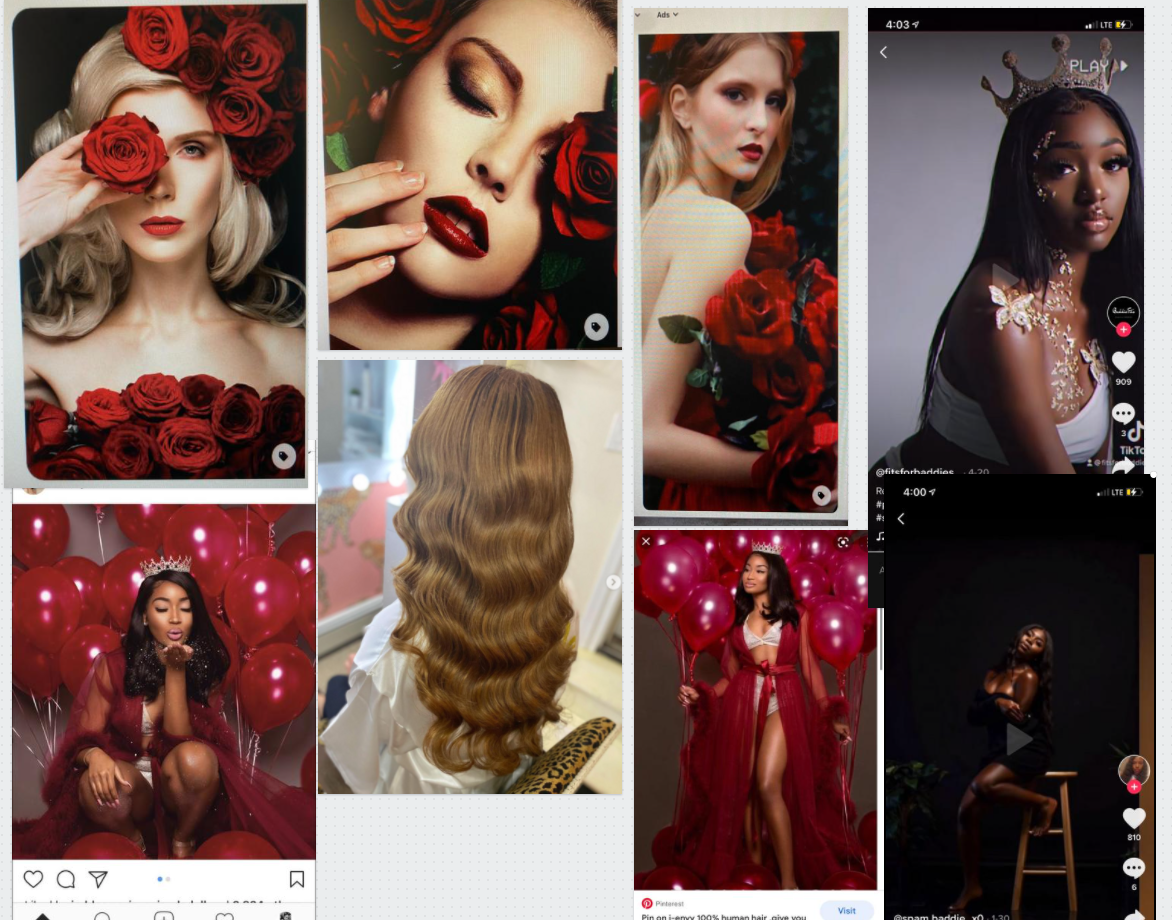 Deanna just graduated high school and for her 18th birthday she booked portrait experience as a gift to herself. She had a great vision for her photos and sent over some inspiration images. To the right you can see some of the style she was inspired by. We collaborated to create a custom session just for her. Many times during a session we get inspired by something that is happening on the set and can switch directions at any time.
During our consultation where we learn about everything you love we will build sets, choose backgrounds, include props, mold light, work with composition and even composite images to create the most interesting and visually compelling one of a kind images that will match your aesthetic. We will collaborate with the perfect make up artist and hair stylist to bring the entire look together on the day of the session so we can have everything we need to create your work of art. It's not uncommon for us to turn the ordinary into something extraordinary one way or another to bring your vision to life. If you have a concept or idea we would LOVE to work with you!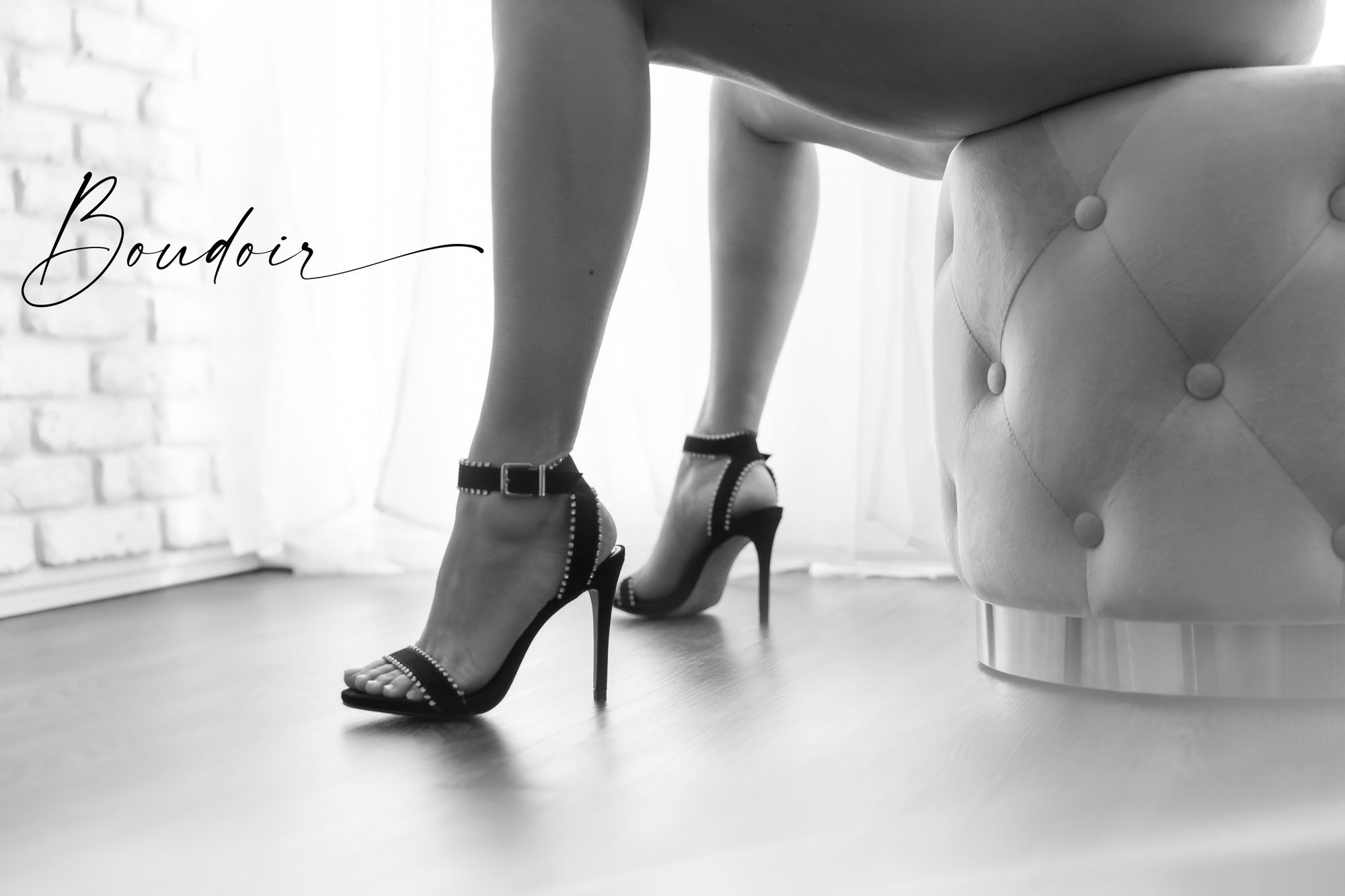 Boudoir is an intimate and empowering journey. It can be implied nudity, silhouettes, a concentration on body and form, the flirty boyfriend shirt, sexy lingerie, high heels, the girl next door, glitz and glam or a floral dream to mention a few concepts. It is my absolute favorite thing to take the time to understand the kinds of images my clients love and create them a custom portrait experience. The ultimate goal is for you to leave feeling 100% proud of yourself as you celebrate your beautiful body. The studio is private and its the perfect place to try something new. I use a combination interesting concepts, great posing, natural daylight and strobes to mold the light in order to bring out your assets and hide any flaws. You can have your images to keep in a folio box, a signature book, fine art album, or even on displayed as custom wall art.

Mother - Daughter, Sisters or best friends
There is nothing better than sharing this experience with someone you love. When you call to book your session we always ask who you would like to be photographed with. You can share the entire experience and create memories that will last a lifetime. We will help you to coordinate your outfits and plan sets that work with your aesthetic. You can enjoy fun conversation while getting pampered with your make overs and then we photograph each of you individually on several sets as well as together. You can bring a cheese platter and champagne and turn this into a gals day out. We love to book these sessions on Thursday or Friday so you can enjoy a night on the town following your portrait experience. This is a great idea for mothers & daughters, sisters, besties, birthday parties, bridal parties, pre prom and graduation parties. Give us a call and we would love to help plan your day of glamour for any occasion or just because you deserve it! Session fees Start at $495 and include: a style consultation, professional hair and make up services for 2 (additional ladies can be added on up to 4), the portrait session and a viewing and purchasing session 3 weeks later where you will only purchase what you LOVE. Ready to get started?
Generational & family  Portrait Experience
We've simplified the family session experience. Whether on location or at our studio we photograph each member of the family, siblings, each parent with the kids and several family portraits. On location we add candid portraits as well. Our package includes all of the culled digital images with global adjustments and a beautiful 8x8 signature book with up to 20 of the best images from the session. $ 975 (immediate family only) Extended family is an add on.
A phenomenal way to celebrate such a large achievement and milestone for your whole family. Above is a typical Signature book layout followed by the individual portraits.
We can create a portrait session that celebrates your religious life event at our studio or at a location of your choice prior to the event so you can focus all your attention the day of on the actual event. Definitely tell the family to get dressed up and in on this photo session. Why not make it a family affair? If there is time and the veil or dress flows we can try a few creative motion and dress throwing fine art images. On limited bases we could be available on the event day to capture this on the day of the event but that would need to be booked well in advance. Please take a moment to fill out this brief questionnaire and we will be happy to reach out to you for a consultation.
Too many women over 50 feel invisible. Yet, we are too experienced to not be heard and too beautiful not to be celebrated.
I want to change that.
I am looking for 50 women to join me in a one-of-a-kind experience celebrating your life and your story.
It's time to start a conversation about the beauty of aging and to embrace the confidence of finally being comfortable in our own skin. Together we can change the way the world defines aging and we can lift and empower those that are coming up behind us.
Through the 50 Over 50 Project We Can: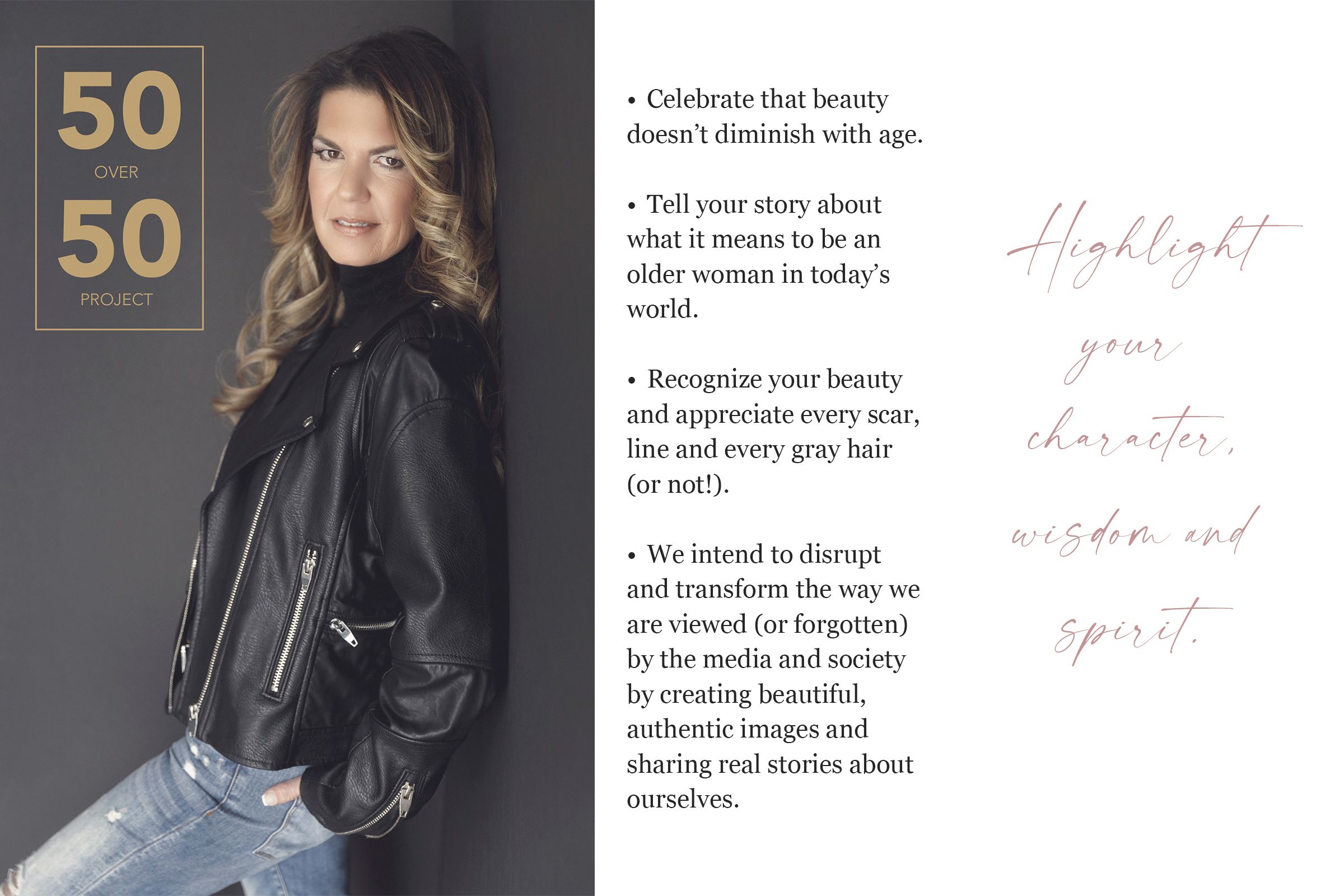 Who can take part in the project?
I would love to photograph a wide variety of women 50 and over. Let's create a tapestry of stunning images of women of different shapes and sizes; women with different tastes, from different backgrounds, and with different views of life.
​It's about so much more than just "taking pretty pictures." My hope is for you to truly reconnect with yourself, see your beauty and spirit the way others already see you.
1. Consultation
Complete custom photo session designed for you, including wardrobe and styling consultation.
2. Professional Makeover
Camera-ready custom make-up application by our professional on site make-up artist. Whether glamorous or natural and refined, it's all up to you! Professional hairstyling included for picture perfect results!
3. Magazine-Style Photoshoot
Covergirl for a day! You will enjoy a fully, expertly guided photoshoot. Not feeling photogenic? Nonsense! It is not your job to be. I've got you! It is my job to connect and make you comfortable, to show you in your best light with flattering posing. Get ready to rock this!
4. The Reveal
We will schedule a time for you to come back and view your beautiful portraits in person or via a zoom meeting online, about 2 weeks after the session. At that time we will review the best images from your session. You can choose your complimentary photo and if you desire more, you'll receive $100 toward an image package. But, you only the images you love!
As a bonus to being a part of the 50 Over 50 project, you will receive one complimentary print and digital of a portrait.
If you would like to purchase more images from your shoot we have many beautiful products - including wall art, signature books and custom albums. Or you can even store your new images in a luxury folio box from Italy.

Women with Financial Hardship Sponsorship
My goal is to show a diversity of women, and I recognize that the cost may be prohibitive to some people. I will be gifting several shoots in the new year to women of financial hardship to participate in this important project. If you are interested or know someone who is, please send an email to Christina
Would you like to sponsor or gift someone a session? Have someone in mind? Send me an email!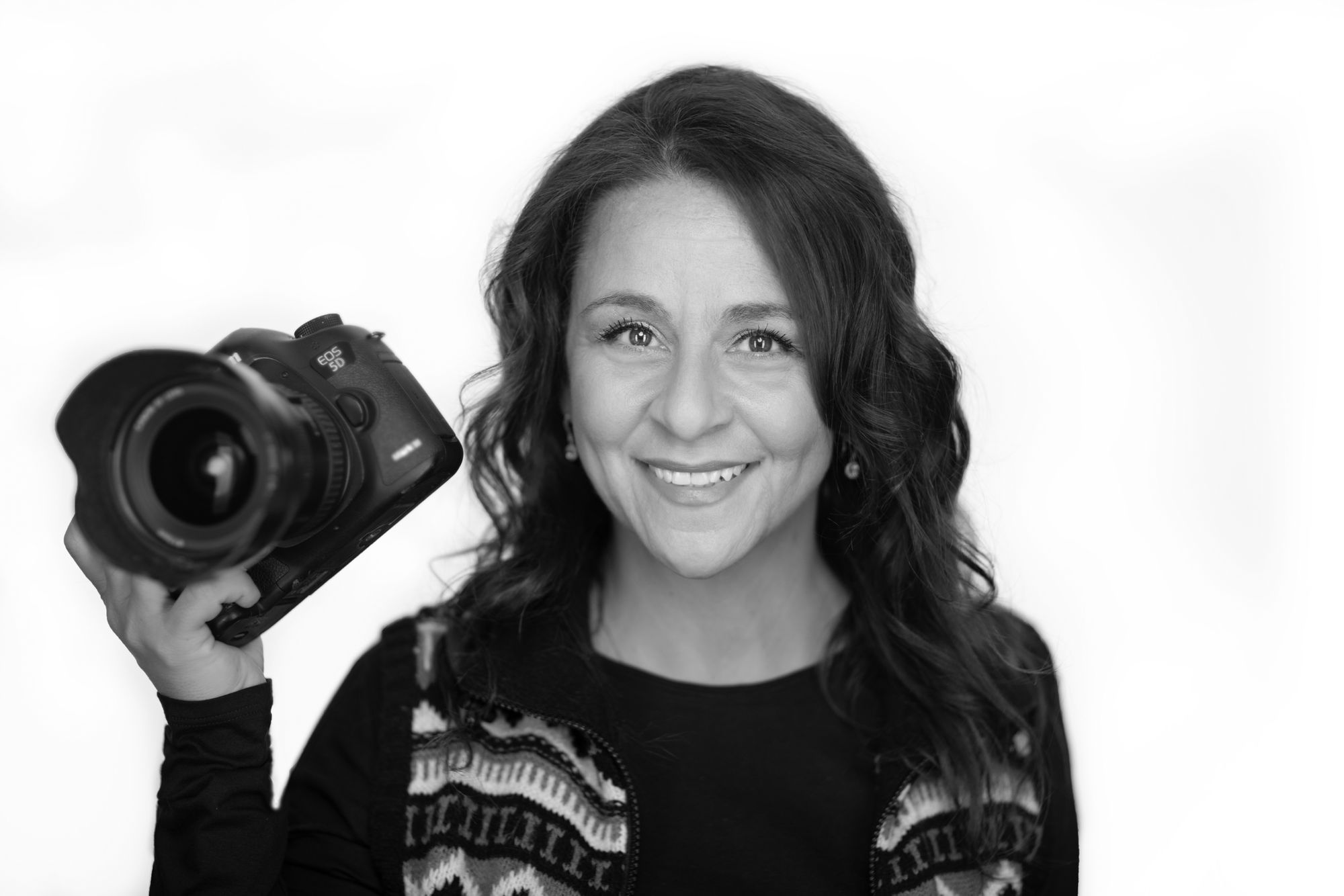 Although I have been a professional photographer and industry educator for over 25 years I only took my portrait photography business full-time after turning 48 and building my dedicated home studio. This year I'm turning 50. I was content on hiding from the world. I even told my husband not to post it on Facebook or have a party for me. I felt like someone in my profession needs to appear young and physically strong and that age was something that would work against me.
Over the past year+ I kept getting clients with Moms bringing their children in for photos. They would sit by watching contently as their beautiful and talented children are photographed. I always asked Mom if she would like to be photographed as well. And time after time I would here "No - not me, just the kids". I did the same for years so I related well.
Now I get women of all ages in my studio to experience a portrait session with me and I can see THEY WANT TO BE PHOTOGRAPHED and they should be. Women of my age and older are very under represented in the media so I wanted to create something about women in the second half of their lives. I know how empowering it can be to see yourself in photographs and I wanted to give this very special gift to all women to enjoy. I finally realized that my age can be my SUPERPOWER!
No longer am I shy and awkward in my life and behind the camera. My years of experience has taught me to be comfortable with myself, my abilities/skills and it helps women in front of my camera get comfortable with me.
It will be fun, fulfilling, and transformational. The REVOLUTION is within you...and I want to bring it out! Join me on a fun and incredible adventure bringing out your superpower!