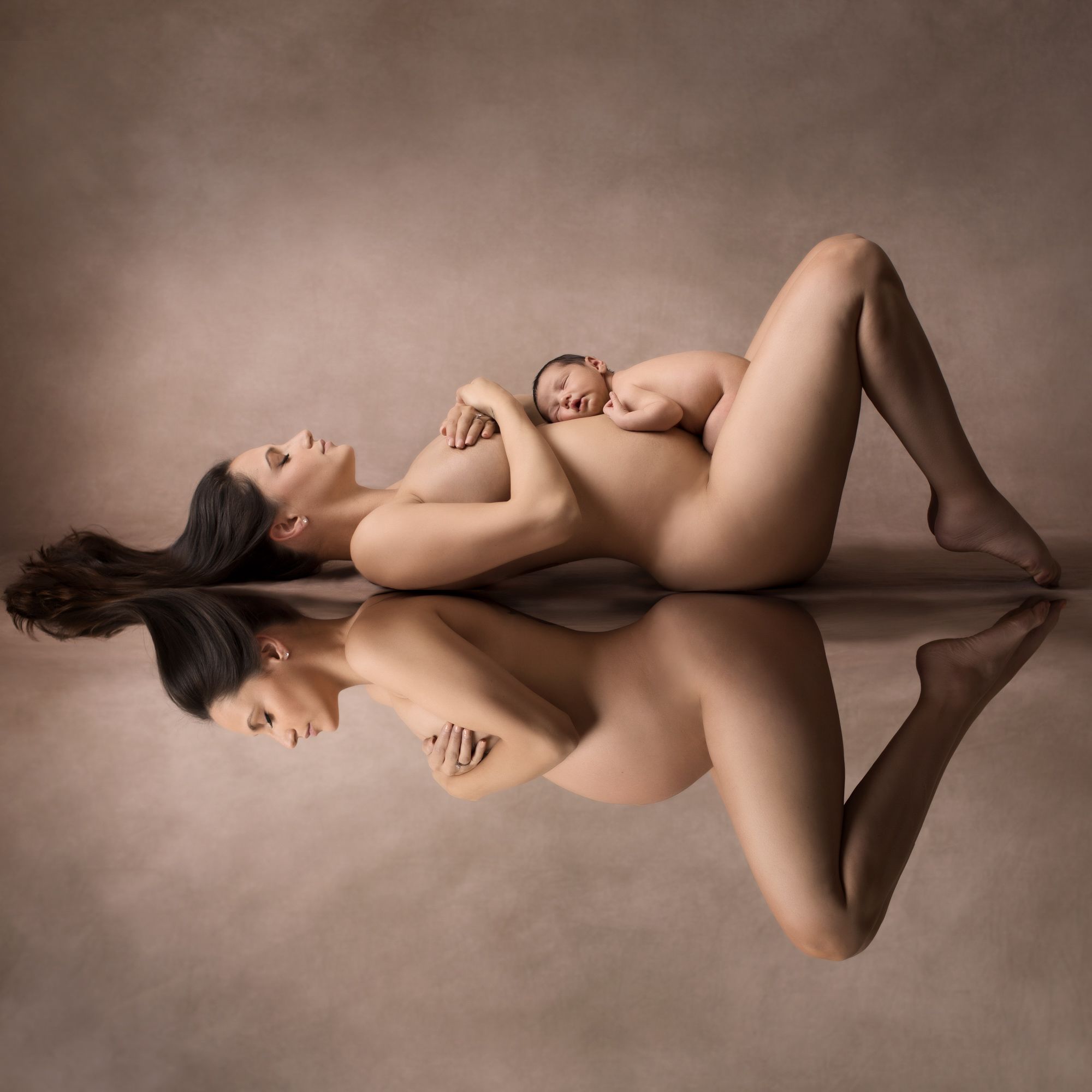 MOM - YOU DESERVE THIS!
This award-winning, signature Maternity/Newborn reflection image is created by photographing mom during pregnancy and 7-10 days following the birth of her beautiful baby. Trust me - NONE of your mom friends will have this one!

5 Reasons to book a Maternity Session:
Freeze Time. You are only pregnant for a very short time and you will never look this way again. You should have a professional create these keepsake images for your family. Your child will grow and love looking back on who you were just before they were born.
The Glow. << Yes. It's real. Mom, you are glowing but you are carrying around a lot of extra weight. You arrive at our studio with dry hair and a clean face. We'll take it from here. Let us pamper you with a professional makeover to get you ready and feeling best for your portrait experience.
Partner bonding. We spend 1-2 hours photographing just mom and then we invite dad to join in the session to create one-of-a-kind legacy images of your growing family. These moments can be funny, tender, intimate and sexy but whatever they are, you will cherish them forever.
Share the love. Maybe you're not feeling a large baby shower, or even going out and about while carrying all that extra weight. Maternity photos will stay and can be sent to all of your family and friends so they don't feel left out of seeing you during your pregnancy.
Creativity. Whether it be a gender announcement or an incredible maternity & newborn transformation we can bring any vision to life in our 1500 sq. ft. private dedicated home studio and decades of experience with lighting, set building and understanding the vision of our clients.
Fine Art Maternity Albums
Each client receives custom service from start to finish. Every detail of your portrait experience receives all of my attention right down to the final albums and wall art. Below are some our favorites. Everything is customizable and we do it all for you including thank you card design and birth announcements.
It will it be so special when you to share these legacy images with your baby when they grow?

1. Consultation
Complete custom photo session designed for you, including wardrobe and styling consultation. We'll get to choose 2-3 outfits.
2. Professional Makeover
No need to show up looking good, we've got you covered. Camera-ready custom make-up application by our professional on site make-up artist.
Whether glamorous or natural and refined, it's all up to you! Professional hairstyling included for picture perfect results!
I have nothing to wear!!! I can give you plenty of websites where you can purchase any style maternity outfit regardless of your style and budget. We can also do a a bare body session. I also have a few pieces in my style closet as well as plenty of materials for draping and tossing.
3. Magazine-Style Photoshoot
Covergirl for a day! You will enjoy a fully, expertly guided photoshoot.
Not feeling photogenic? Nonsense! It is not your job to be. I've got you! It is my job to connect and make you comfortable, to show you in your best light with flattering posing. Get ready to rock this!
This shoot can be fully devoted to you or bring in your partner + any other little ones! But know, this day is to make you feel that glow.
4. The Reveal
We will schedule a time for you to come back and view your beautiful portraits in person or via a zoom meeting online, about 3 weeks after the session. At that time we will review the best images from your session.
Following your maternity portrait experience, we will waive the session fee for your newborn session with a signature book or similar value commitment!
The best time for your maternity photos is 27-32 weeks out, so be sure to inquire well before then!